Hover-1 Edge Electric Scooter w/ LED Headlight, Built-in Bluetooth Speaker, 15 MPH Max Speed, 264 lbs Max Weight, 6 Miles Max Distance - Black
Regular price
$644.99
Sale price
$347.99
Save $297.00
/
---
Hover-1 Electric Scooter w/ LED Headlight, Built-in Bluetooth Speaker, 15 MPH Max Speed, 264 lbs Max Weight, 6 Miles Max Distance - Black
$347.99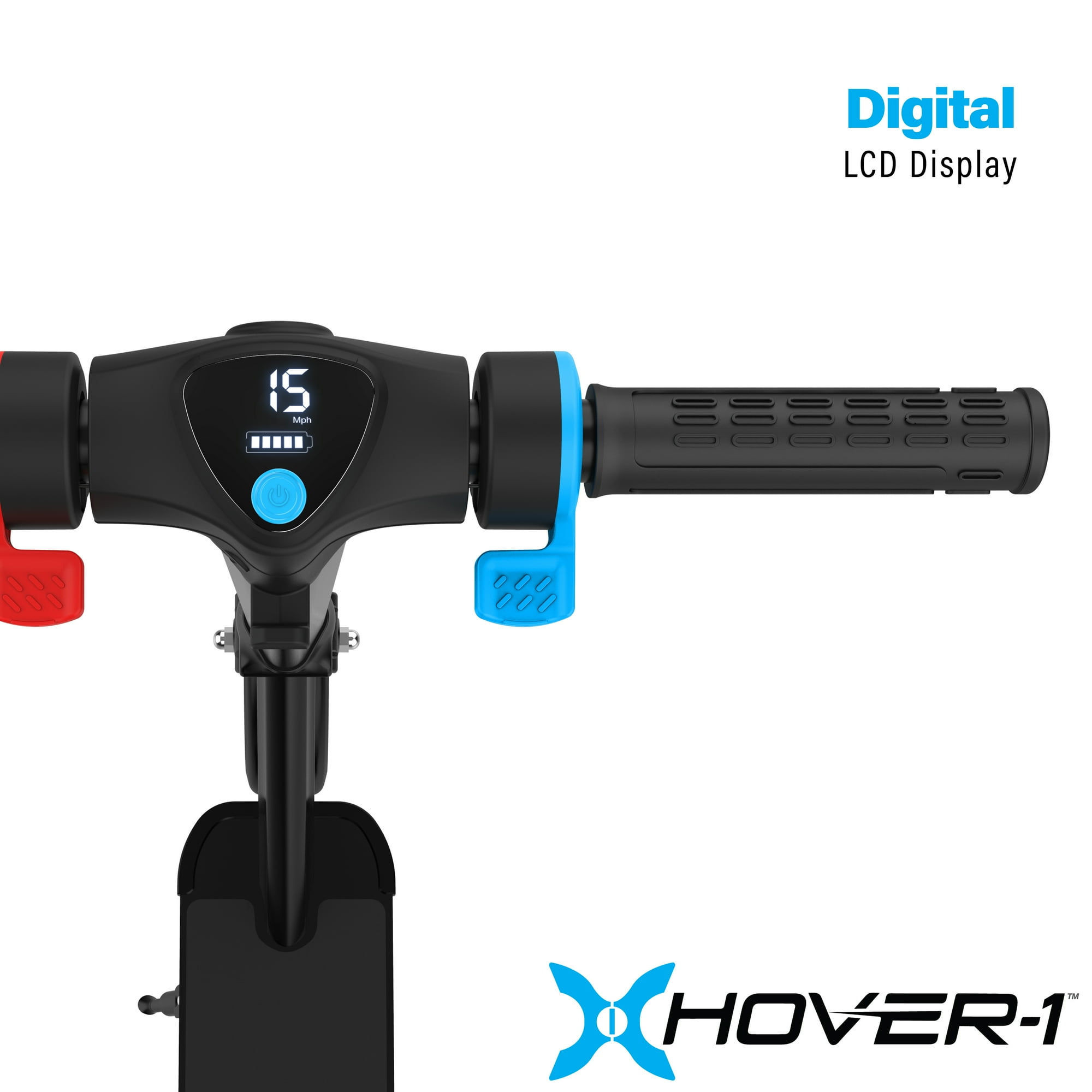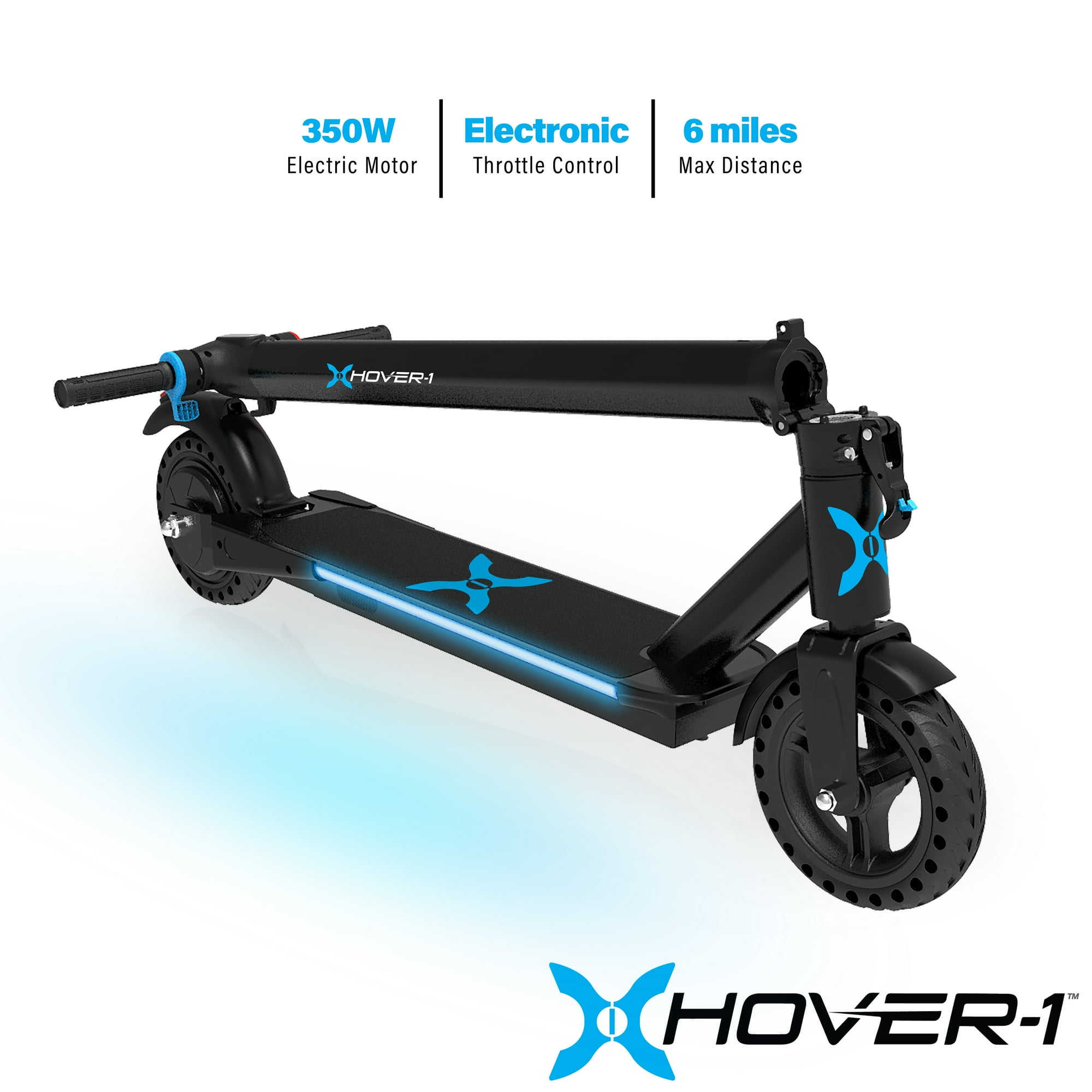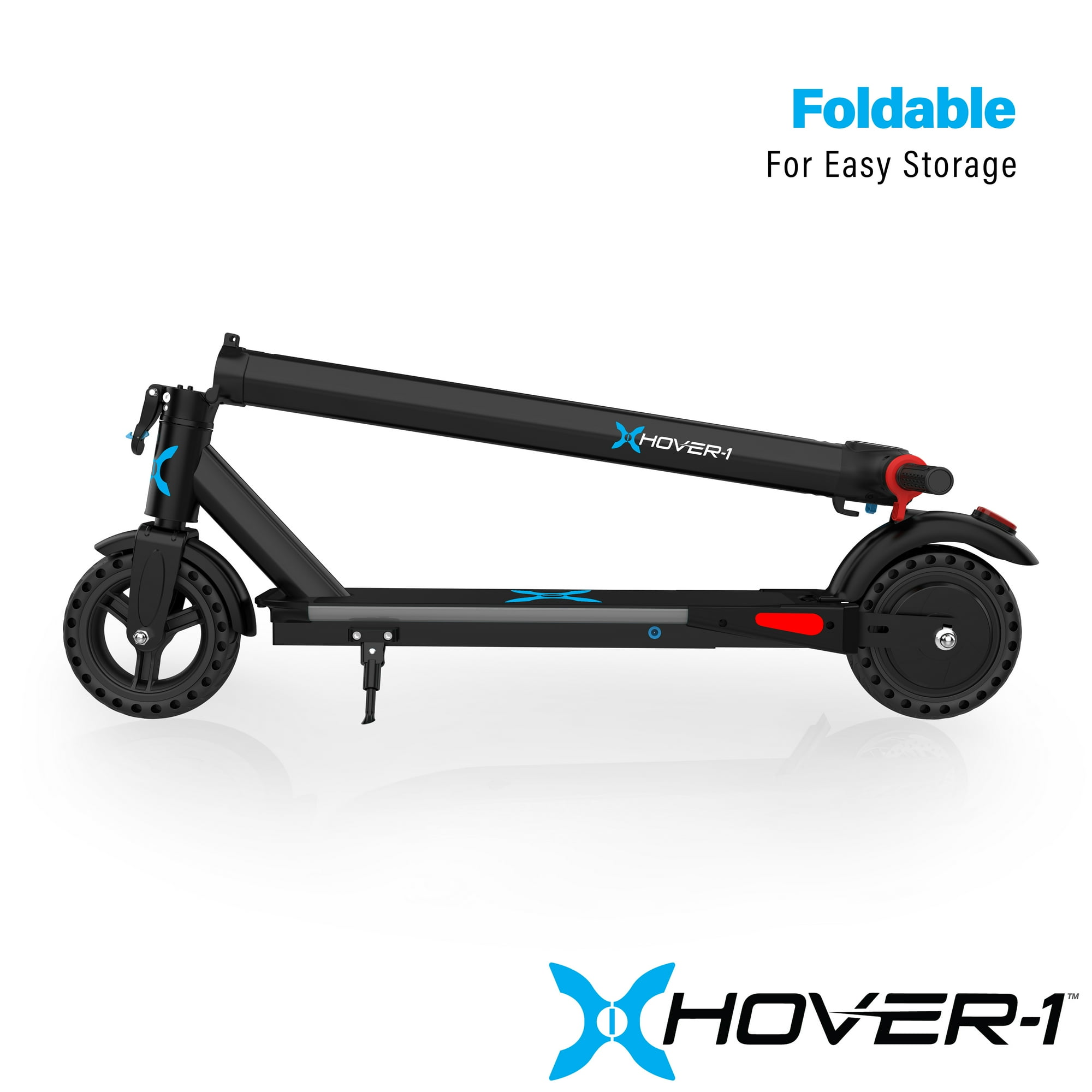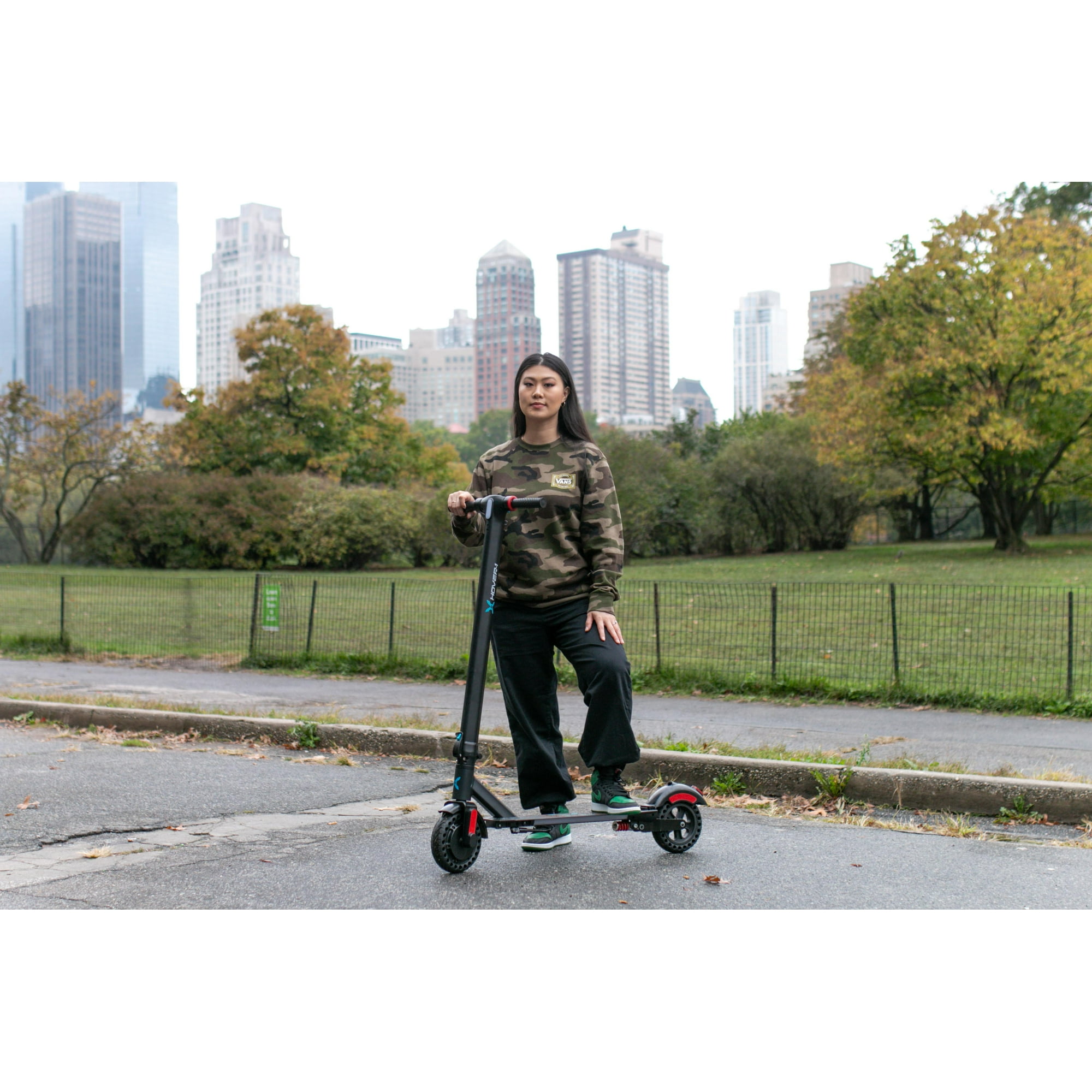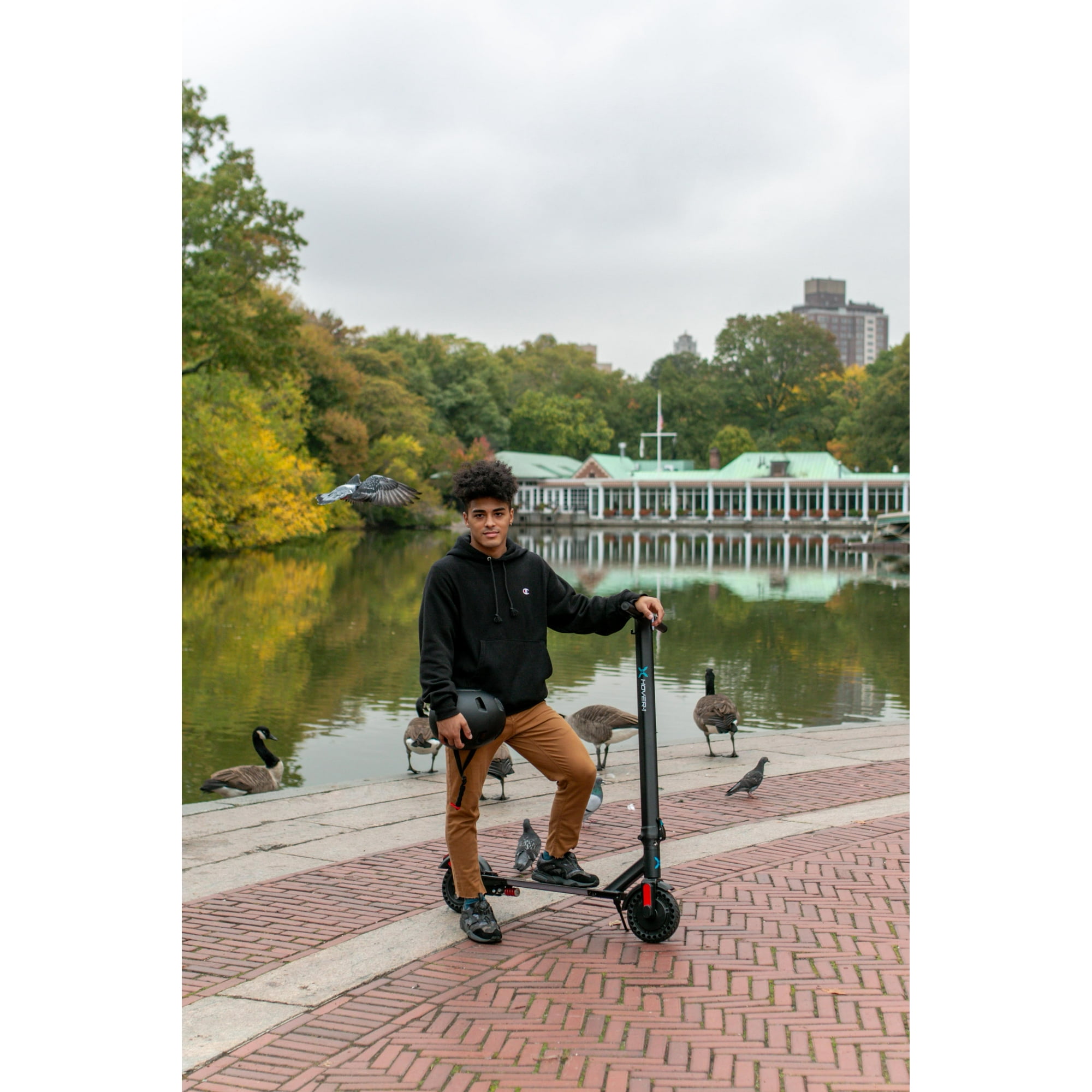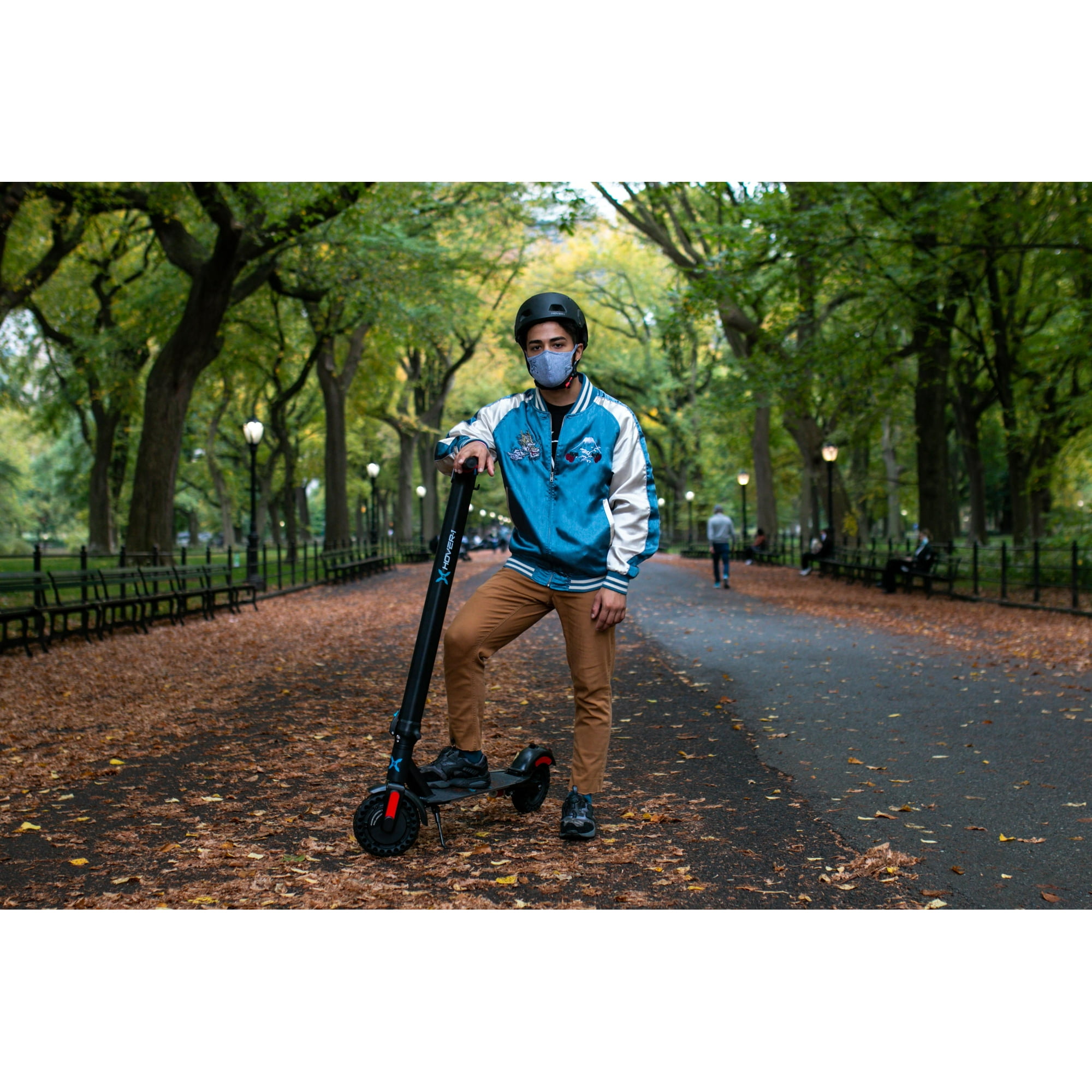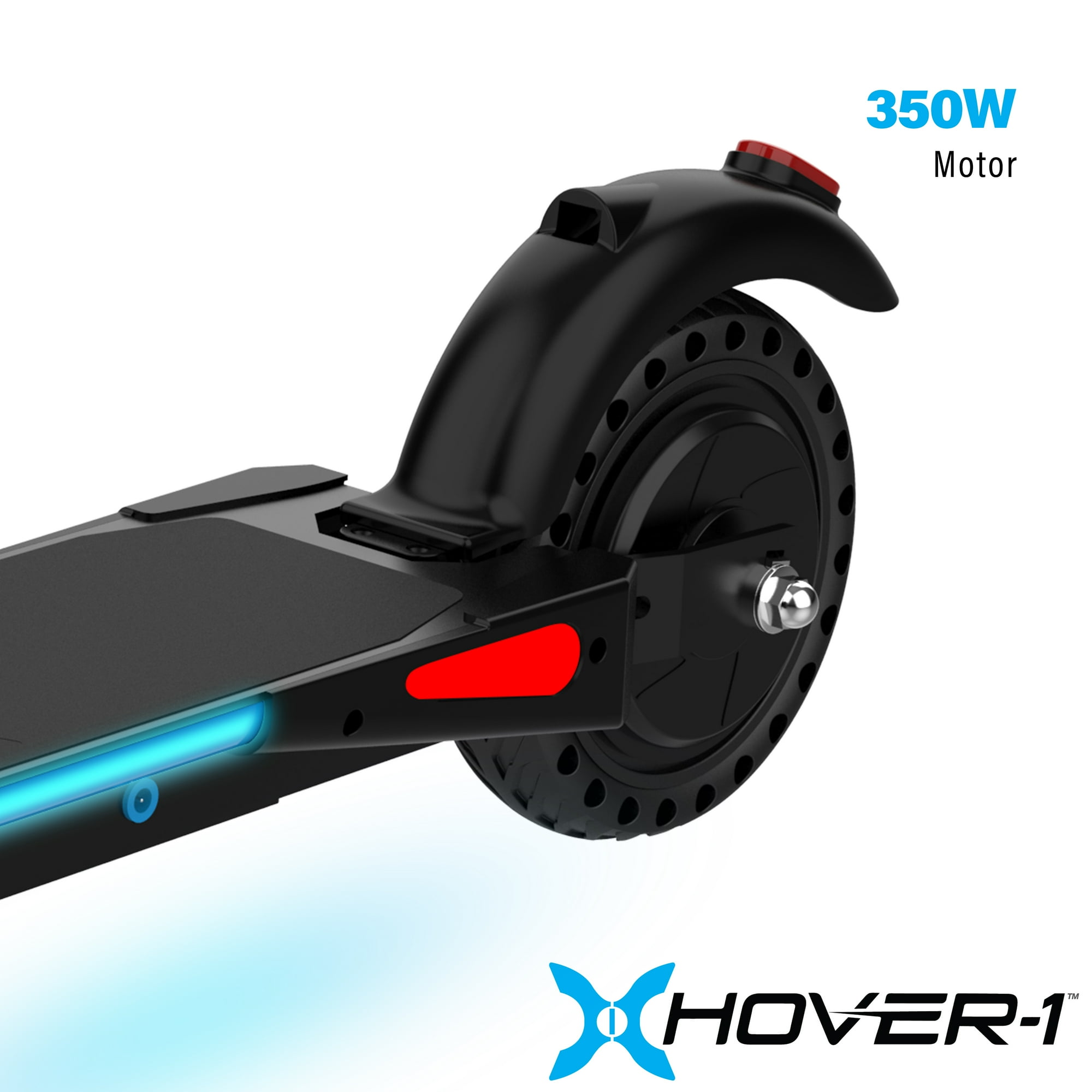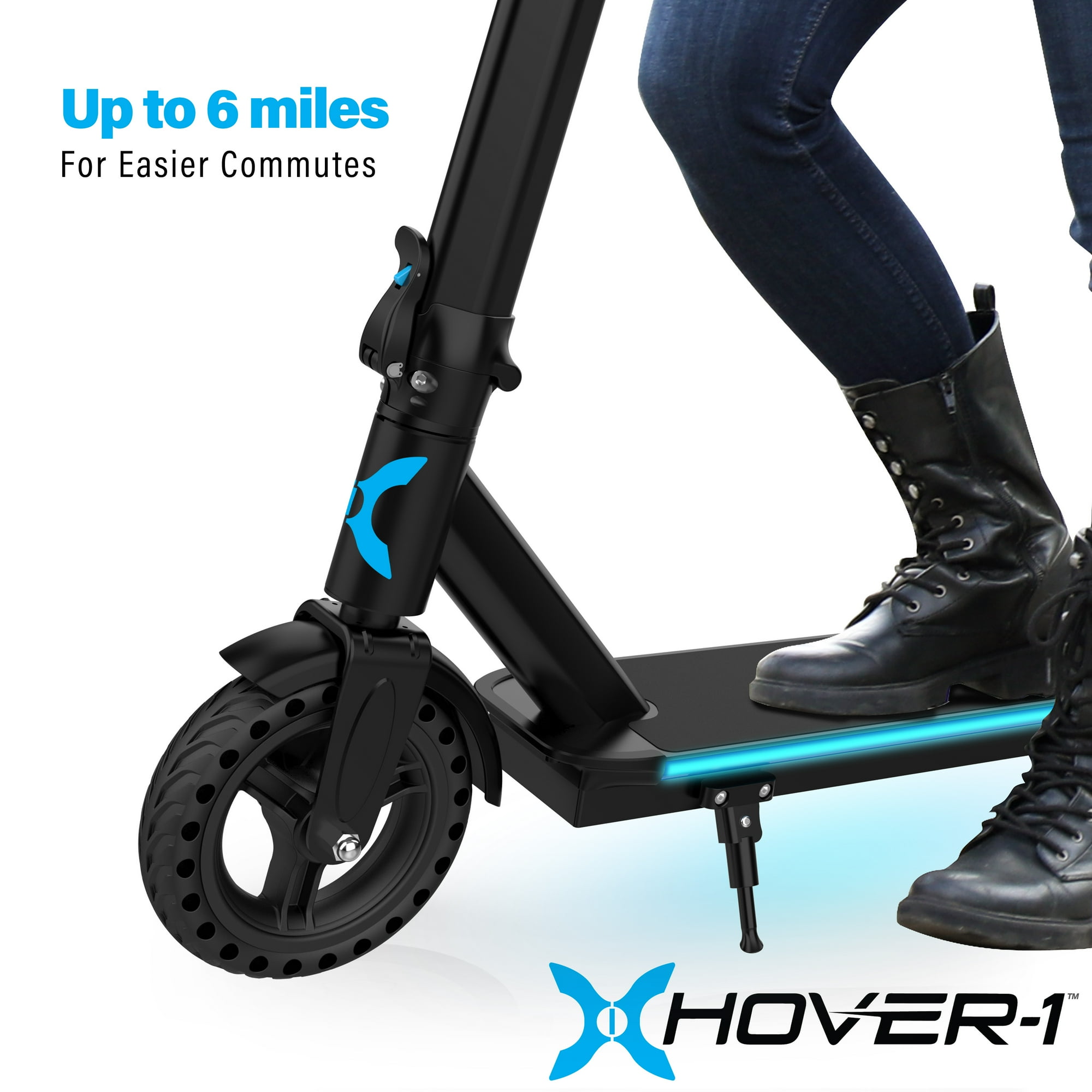 See any care plans, options and policies that may be associated with this product
---
Recently viewed
Hover-1 Folding Electric Scooter with 8.5" Air Filled Tires, 15 mph, Black
About This Item
Max Speed: 15 mph
Max Distance: 6 miles
Max Weight: 264 lbs
Electronic Throttle & Brake
Portable Folding Design
350W Motor
20 Cell Lithium-Ion Battery
8 inch Wheels
Blue LED Deck Lights
Built-In Cruise Control
LED HeadlightSupports Riders Up To 264 lbs Max Weight!Built-in Bluetooth Speaker
SUPER EFFICIENT TRANSPORTATION!
Hover-1 Eagle Electric Folding Scooter w/ 6.5" Wheels Front & Back, 15 MPH Max Speed, LED Headlight, LCD Display, Built-In Bluetooth Speaker, Suspension Shock-Absorber 
We aim to show you accurate product information.
 Manufacturers, suppliers and others provide what you see here, and we have not verified it. 
Live life on the edge with the Hover-1 Edge eScooter. This exciting rideable is the perfect eScooter for someone new to the technology. With a simple throttle, an electric braking system, and rear suspension for a comfortable ride, this eScooter is a great ride for an eager beginner. And don't forget about the Bluetooth speaker and LED lighting system.
The Edge features a max speed of 15mph and a max range of 6 miles to pave the way for endless fun and riding. Allow the 350W motor to help you feel the power of the Edge, while the oversized 8" wheels give you the stability you need for hairpin turns.
Hover-1 Edge Adult Electric Scooter
About This Item
Battery: 20 Cell Lithium-ion 
Wireless Speaker: Built-in 
Max Speed: 15 mph 
Max Weight: 264 lbs
Motor Power: 350W 
Max Distance: 6 Miles 
Digital LCD Display
Electronic Throttle Control
Foldable for Easy Storage
Lights: Front Headlight & Blue Deck LEDs 
Specifications
| | |
| --- | --- |
| Brand | Hover-1 |
| Manufacturer Part Number | Hover-1 |
| Color | Black |
| Assembled Product Weight | 30.865 lb |
| Assembled Product Dimensions (L x W x H) | 6.89 x 44.09 x 20.28 Inches |
DRIVE UP TO 6 MILES ON A SINGLE CHARGE!
☆ Batteries - Li-Ion
☆ Life Span - Up to 5000 cycles
☆ Maintenance - None
☆ Weight - 15 - 40 lbs
☆ Charge Time - 4.5 - 6.5 hrs
☆ Brushless 350 Watt.      Dual-Electric Motors
☆ Life Span - Long
☆ Maintenance - None
☆ Efficiency - High
It has a shock-absorber for smooth ride, and bluetooth Speaker, LED Lighting, Cruise control, and lots more purchased!
purchased on
March 29, 2021
Chris, purchased on
March 28, 2022
Customer Reviews & Ratings
4.6
Average Rating:
(
4.6
) 
out of 
5 
stars
94% 
Recommended 
(52 of 55)
Frequent mentions
Feedback / Comments: 63
---
---
Average Rating: 
(
5.0
) 
out of 
5 
stars
So Much FUN!
This electric scooter has been so much fun for the whole family! It's super easy to put together, charges up great, has 2 different speed settings, it stops really good, love the lights (headlight, tail light, under light) & easy to fold & unfold. We tested this scooter to the max with 4 different people trying it out, it's held up perfectly! I highly recommend!
Reviewed by

 

Jc30436
Jc30436
---
Average Rating: 
(
5.0
) 
out of 
5 
stars
So much fun
The Hover-1 Edge Electric Scooter is the new hit at my house. My entire family loves it and keeps riding it around everywhere. We really like the lights on it. You have an LED headlight and a blue light that glows underneath. The best part is the brake light flashes when you use the brake. Next favorite is the Bluetooth speaker. It's not extremely loud but it is loud enough to listen to stuff while you ride because the scooter itself is very quiet. It goes up to 15 MPH on the 2nd setting and only goes up to about 9 MPH on the 1st setting which says P1 on the screen. The scooter is equipped with cruise control as well if you just want to ride. We haven't killed the battery yet and we play on it a little bit each day. It seems to last a bit longer than others. The weight limit is 264 so the adults can even enjoy it. You just press the power button 2 times to turn on lights, the accelerator 2 times to turn on cruise control. It's very easy to use and operate. Also stores well because it folds down.
Reviewed by

 

Sadams10
Sadams10
---
Average Rating: 
(
5.0
) 
out of 
5 
stars
Such a neat scooter for kids/teens.
Such a cool scooter. Kids love it. My oldest boy took it out in the evening to test out the lights. Still trying to figure out the Bluetooth (I'm not tech savvy). But I absolutely recommend this scooter. Has a pretty high max weight rating so it will be hopefully a very long time that this will be used. Seriously worth every Penny.
Reviewed by

 

5timeslucky
5timeslucky
---
Average Rating: 
(
5.0
) 
out of 
5 
stars
Super Cool!
Our whole family is super impressed by the Hover-1 Edge Scooter. To start all I had to assemble was to add on the handlebars, and unfold the scooter. It took minutes. Charging was also easy and pretty quick, it took about 30 minutes. The instructions were very clear and it is a smooth and speedy ride. I was surprised by how fast it could go. It brakes smoothly and speeds up well. Great for turns and stops. I also really love the cute little kick stand. It it sturdy and made very well. Also, very cool looking!
Reviewed by

 

HeidiBee
HeidiBee
---
Average Rating: 
(
5.0
) 
out of 
5 
stars
This Scooter is AWESOME
This scooter is fast and durable. It hold me and my nine
year old son when we want to ride together. It works
perfectly, even in the rain. The lights on the bottom and
front are very bright for when you drive at night. The
speakers are loud and connect to your phone on any
music app you choose. Takes about 3 hours to charge
and has lasted almost an hour before the battery started
getting too low. You can also choose how fast it goes when
when your kids drive it by programming the users on it.
It's a perfect gift for your kids! Highly recommend!
Reviewed by

 
Madampresident
---
Average Rating:
(
5.0
) 
out of 
5 
stars
Fun for the whole family!
This scooter is fun! Works great, easy to use and convenient to fold up. The scooter is durable and solid my whole family loved. The instructions that come with the scooter are very easy to read and very helpful. The scooter has a great design. I felt really comfortable standing on the wide base. There is a brake, power function, LCD Display, throttle. There is also a headlight to use for safety and in the dark. I would recommend this scooter to anyone looking for an easy way to get around town.
Reviewed by

 

Luciana
Luciana
---
Average Rating: 
(
4.5
) 
out of 
5 
stars
Electric scooter fun
Soeveryone at home loves this scooter. It has weight to it so I do t worry too much about frailty. It charges pretty quickly, no complaints so far. It has acute little quickstand, also very helpful. There is a "go" lever and a brake lever. The charger plug cord is included. There are two power speeds, power 1 goes up to 9mph and power 2 goes up to 15mph. It is supposed to be bluetooth compatible to listen to music, however the app isn't ready for scooters yet. Durable looking break and also has a light up bottom and front headlight. LCD displays the mph. Loving this!
---
Average Rating:
(
4.2
) 
out of 
5 
stars
The Hover-1 Edge Scooter is Tons of Fun !
We've had tons of fun on the Hover-1 Edge Electric Scooter! The manual has many helpful suggestions and guidance on proper usage and precautions, which are really useful, and you can find videos online showing how to use it. Getting ready to use it is simple, just take it out of the box, attach the handle grips (they just screw in), and plug it in for about five hours before the first motorized ride. The great thing is that you can ride it without engaging the motor, this is a good way to start out so that you can get used to balancing on it and practice stopping (there's a manual brake over the rear wheel that's foot operated) and turning at slower speeds. Because it's meant for smooth surfaces and can't be used in puddles or mud, I'd suggest you buy this only if you have sidewalks or walking paths nearby to ride it on, it gets hung up on small rocks of about 1/2 inch diameter. It folds in half for easy storage and transport in the car, which is great. My only complaint is that the rear reflectors aren't integrated into the riding deck, they're screwed on as separate attachments, which means they are susceptible to breakage, which is what happened when my son went off the edge of the sidewalk during the first day of riding it. I'd also like to note that this isn't a model that's good for small children, the steering column isn't adjustable for shorter heights and with the top speed, it's really meant for older kids, teens, and adults.
Reviewed by

 

Themamabear
Themamabear
---
Average Rating:
(
4.4
) 
out of 
5
stars
Nice scooter
It takes 9 hours to fully charge. The charge will last approximately 1.5 hours. Adjusting handlebars would make make this scooter much more user friendly. The lights, the speed, and the braking are all perfected on this scooter. Be sure to tighten screws before riding. I post the speedometer screws on my first ride.
---
Average Rating:
(
4.8
)
out of 
5
stars
Love This Scooter!
This scooter is very fun and there are quite a few things I like about it: it's fast, I like that it has 2 settings so I can set it on the slower setting for the kids, it has breaks which work very well, it's got fairly large wheels for a scooter and will roll over grass and small bumps. I also like the lights, they took really cool in the dark, and finally the speaker is fun. Now for the one bad thing, the reason I gave it 4 instead of 5 stars, it doesn't do well at all on hills, granted the hills around my place are fairly steep, but it really doesn't want to climb them without me kicking a little to give it a boost.
DON'T WASTE YOUR MONEY ON A LIME SCOOTER!